Wednesday, December 8th, 2021
As New Zealand rolls out its vaccination programme and welcomes select international travellers and prepares for a future where COVID-19 will be endemic, it's a perfect time to evaluate the quality of your healthcare cleaning services and ensure your facilities are prepared. So what should you be looking for?
The Checklist for Healthcare & Medical Facility Cleaning Quality
When assessing and evaluating your current medical cleaning provider, consider the following elements.

# Have you worked together to create a site-specific cleaning plan?
From the very outset, your commercial cleaning provider should have attended your site and worked with you to develop a site-specific cleaning plan focusing on high-traffic and high-risk areas. Can you quantify how frequently certain areas or rooms are cleaned, and how? Is there a Quality Management Process to set and maintain these cleaning standards?
# Does the provider have infection and contamination controls in place?
As well as COVID-19 there are of course many healthcare associated infections that can be transmitted through surface or droplet transfer of organisms, including antibiotic resistant organisms. If your cleaning provider doesn't carry out targeted Specialist Surface Disinfection and strict contamination control measures, look to a provider that will.
# Do your medical cleaners offer specialist post contamination cleaning?
Not all commercial cleaning will be able to provide post contamination cleaning, yet it's an essential service in many healthcare settings to safely clean up traces of biohazardous materials or waste. Cleaners should be experienced and highly trained in this area, as it has no room for error.
# Is your cleaning provider committed to workplace safety?
As you deliver high quality care to keep your patients well, your cleaner should also care about keeping their team, your staff and patients safe. Measures in place should include workplace safety plans, sustainable cleaning solutions and workforce vaccinations to help protect staff and patients.
# Is your cleaning provider adhering to New Zealand's COVID-19 guidelines?
New Zealand has a number of COVID-19 guidelines in place for medical care and healthcare to minimise the impacts of COVID-19, including the correct use of PPE and extra cleaning precautions in rooms where a patient is a confirmed or probable case of COVID-19. Your healthcare cleaning service, medical centre cleaning services or pathology centre cleaning services should be up-to-date and aligning with current guidelines.
If your current cleaning provider isn't meeting every one of these points, or you have doubts as to their cleaning outcomes, then it's time to look to another provider.
# Finding the right medical cleaning in Auckland, Hamilton, Christchurch & beyond
It can take time and research to ensure you choose the right provider for medical cleaning in Christchurch, Auckland, Manukau, Epsom, Waitakere, Wellington and across New Zealand. The dedicated team at AMC Commercial Cleaning can provide an obligation-free site cleaning quote tailored for your site, so contact us today to get started.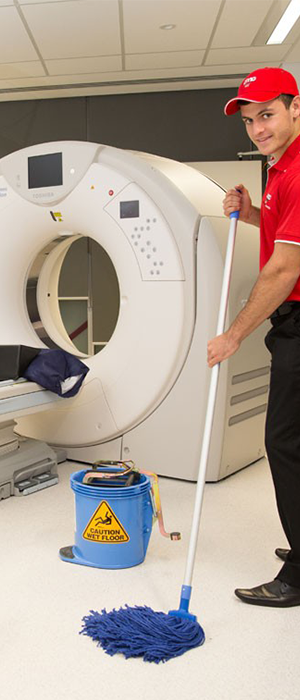 And if you are thinking of owning your own commercial cleaning franchise, we are always looking for exemplary people who care. Read more about our industry-leading training and support and take your first step towards owning your own cleaning business franchise.