Wednesday, March 17th, 2021
How do you identify truly professional commercial cleaning services for your organisation? Here's the essential checklist of questions to answer.
Are they equipped and capable of providing service at your site?

Not every cleaning company has the resources or training to clean a site that's 4,000 square metres or larger. Ask about the size of contracts the business currently services, and how long they've held these contracts.
Are they experienced within your sector?
Relevant experience is important. For example, childcare, daycare and school cleaning can require different cleaning skillsets and processes to industrial cleaning, and office cleaning is different again.
Can they provide references from their clients?
Any professional cleaning company will be delighted to provide references from clients within your sector. Aim to check at least two to ensure they're the real deal.
Have they outlined a detailed cleaning plan?
This plan should be personalised to your site and outline included services such as vacuuming, mopping, dusting and surface cleaning and disinfection – including an extremely high level of detail for services such as medical cleaning.
Does the company have COVID-19 appropriate measures in place?
This relates specifically to pre-emptive surface disinfection and post contamination cleaning, and also includes training and awareness of contamination management.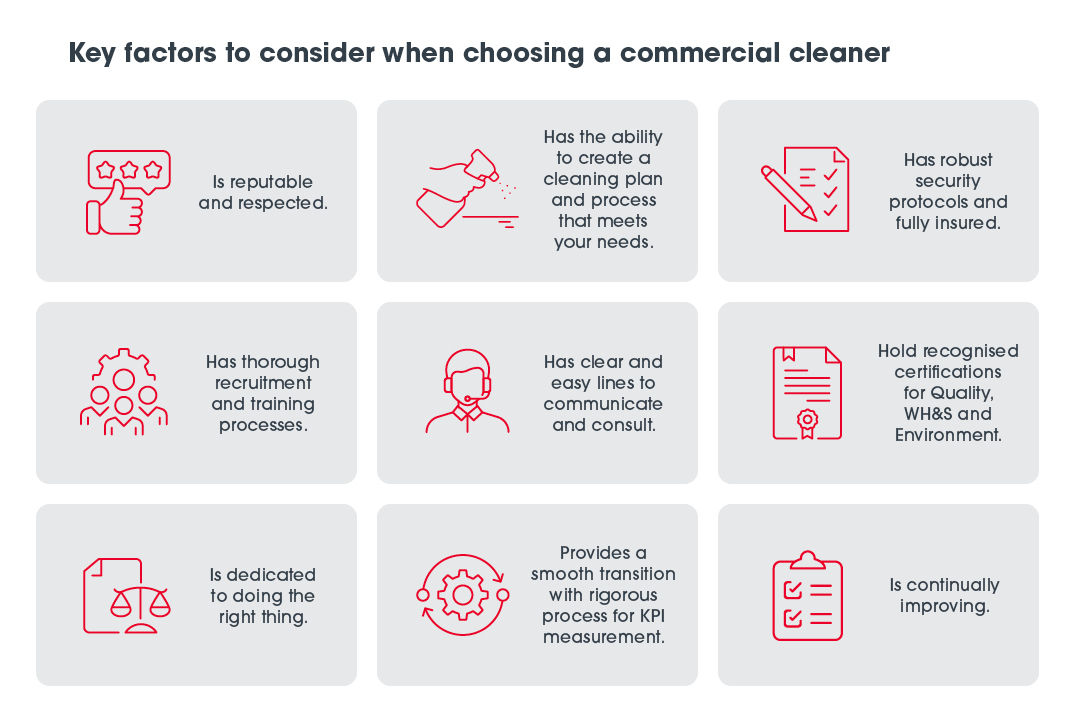 Do they have adequate public liability insurance
This is important whether you're engaging cleaning services for your warehouse or your retail facilities – your cleaning company should be covered.
Can they provide evidence of workers compensation insurance
Not all cleaning businesses maintain this, so it's important to check.
Do cleaning staff undergo a police check?
For example, each member of our own staff at AMC Commercial Cleaning undergoes a police check so you can be confident they respect property, people and privacy.
Are cleaners comprehensively trained in WH&S and Quality Management systems?
After all, your cleaning team may be onsite often. Great importance should be placed in safe and high-quality work.
Do they have robust recruitment, selection and training processes in place?
These will ensure that cleaning staff onsite are fully trained, capable and certified.
Does the cleaning company have a system of reporting on their state of service?
This will ensure you're never left in the dark when it comes to cleaning progress.
Do they have KPIs in place for cleaners to help you meet or exceed your compliance needs?
These may be very specific for sites such as pathology centres, medical centres or for aged care cleaning.
How can you get in touch if there's an issue?
Will you have a dedicated account manager, and is there a meaningful escalation and review cleaning process in place?
Is the cleaning business driven to continually improve?
Ask about recent improvements, whether technology-based or process-based, that have been made to improve service delivery.
Is the company well led by accountable directors?
What is their ownership structure, and can you access director details? This is a strong sign everything is above board.
Do they value sustainability measures?
From cleaning products to office management, the most professional businesses will have environmental sustainability processes and practices in place.
Do they have strong Governance & Social Responsibility?
How does the company support good governance, community and social consciousness?
Will the transition to this new service be smooth?
Do they have a detailed transition and implementation process that's suited to your needs and will minimise any disruptions?
From showrooms to corporate offices, medical facilities to shopping centres, AMC Commercial Cleaning can provide specialist cleaning services in your sector carried out by certified cleaners. Contact us today to develop your personalised cleaning plan in Auckland, Christchurch, Wellington, Hamilton or elsewhere across New Zealand.