website creator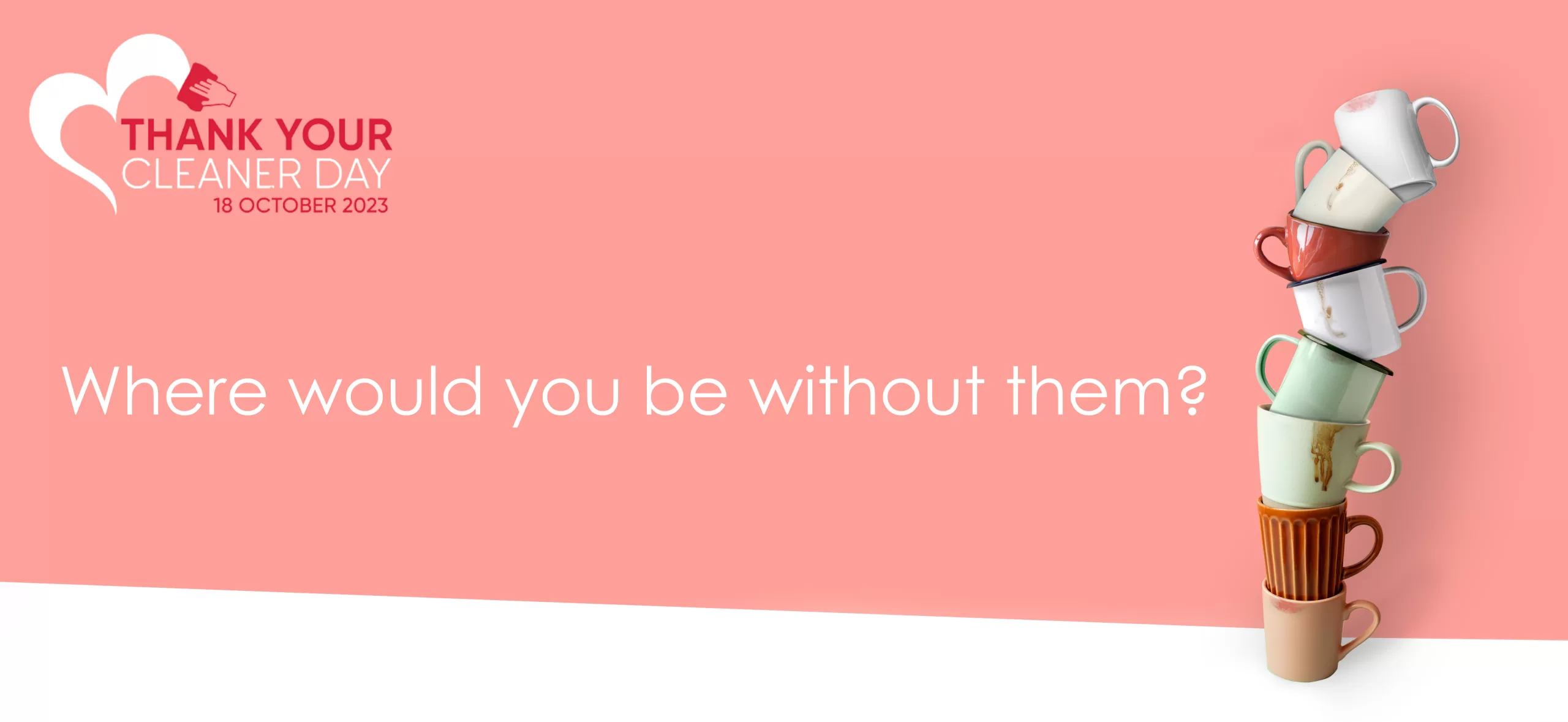 Our valued clients, hailing from a wide range of industries in Aotearoa, including Corporate Head Offices, Media and Entertainment, Telecommunications, Food Manufacturing, IT, Finance, Insurance, Oil and Gas, Logistics, as well as Medical and Healthcare Outfits, Childcare Centres, High-End Fashion Retail, Supermarkets, Car Showrooms, Dealerships, Schools, and Educational Institutions, among others, have shared their sincere thanks for the dedicated cleaning crews of AMC Commercial Cleaning.
We are deeply touched by the abundance of gratitude that echoes our own sincere thanks to the countless cleaning staff who consistently show up, right on time, and wholeheartedly dedicate themselves to serving each and every customer, day in and day out. Our team wholeheartedly embraces our core mission and purpose – at the heart of everything we do at AMC Commercial Cleaning, we acknowledge the paramount significance of looking after our people.
On behalf of all of us at Nespresso Christchurch, We would like to say thank you for keeping our boutique clean and hygienic every day!

Dani Oliveira, ABM - Nespresso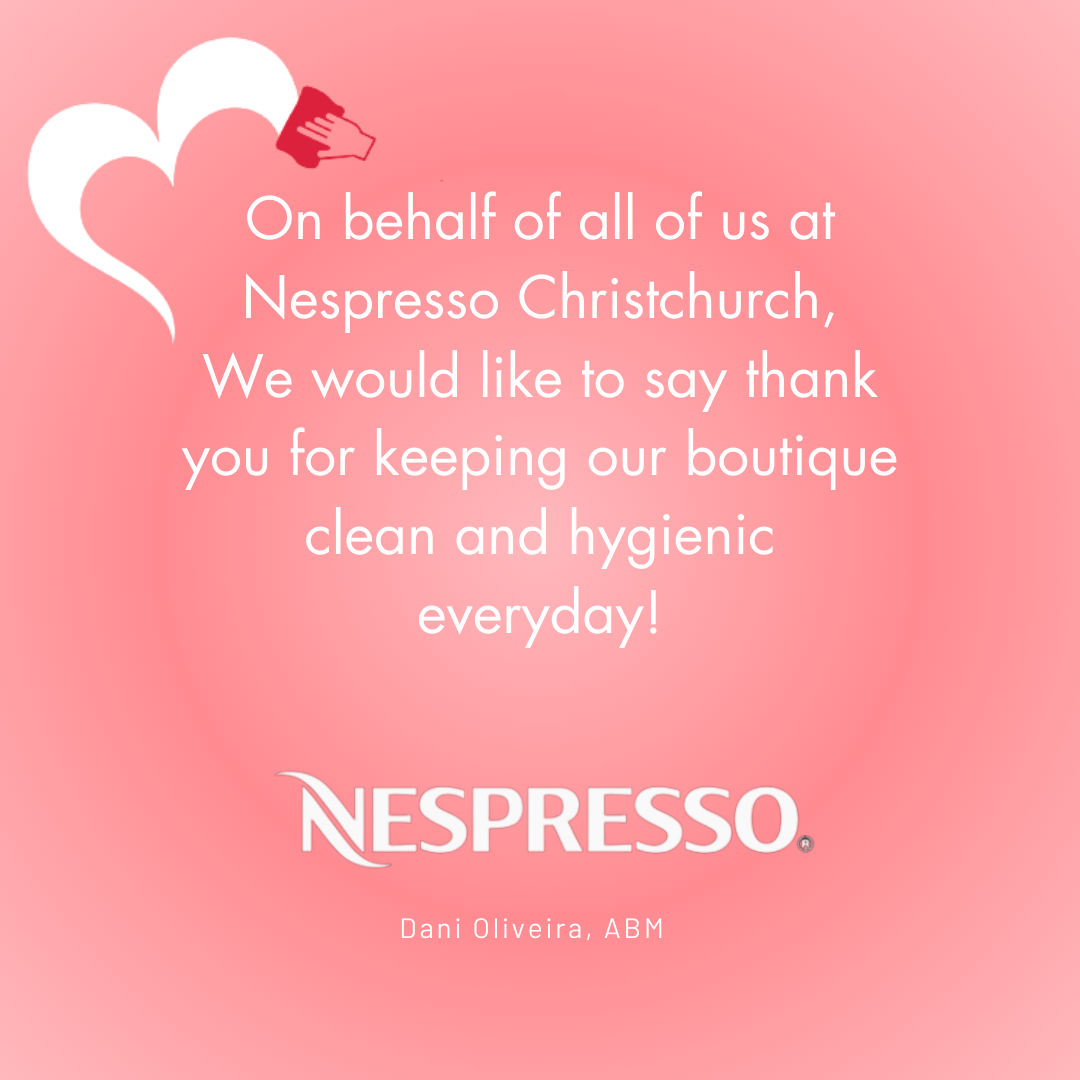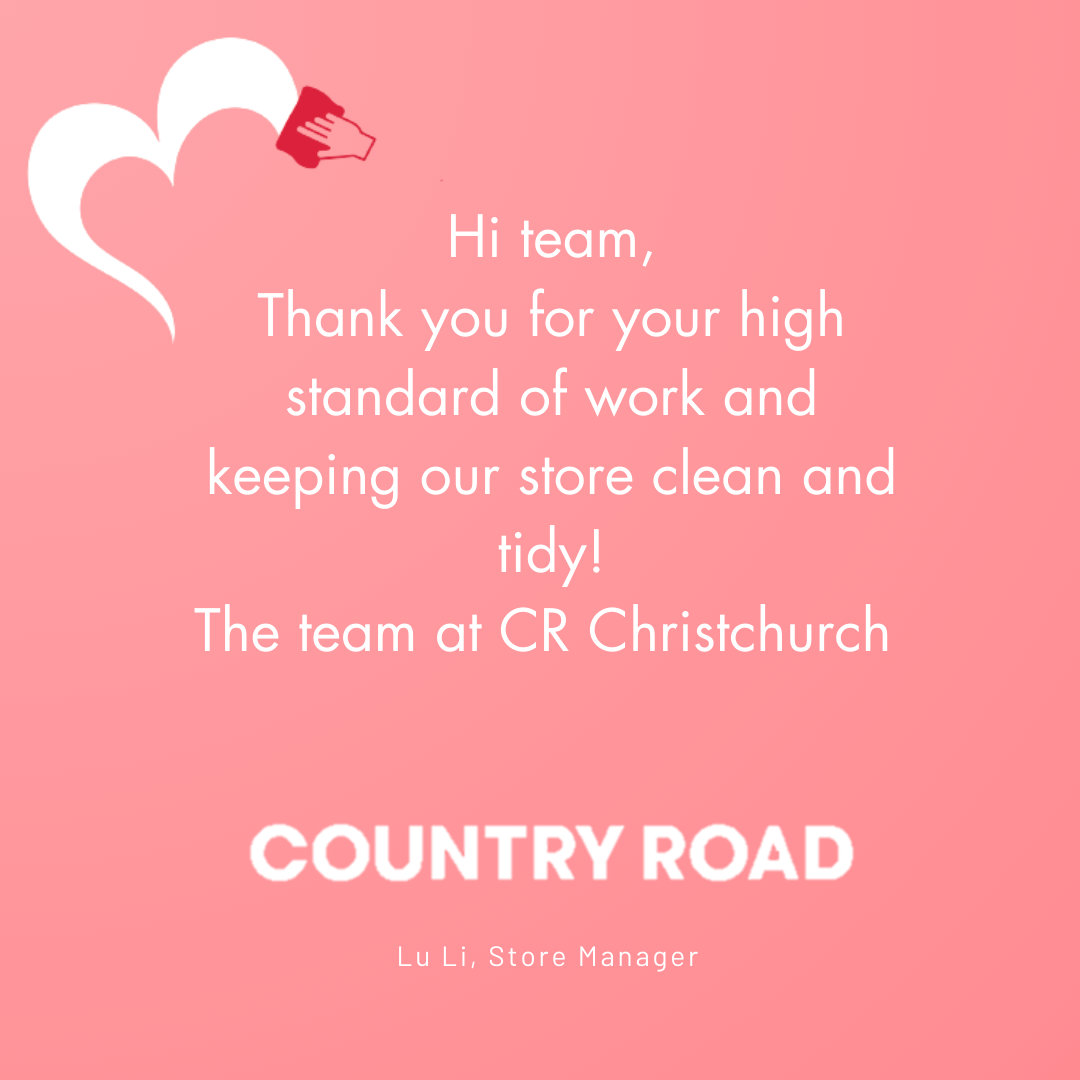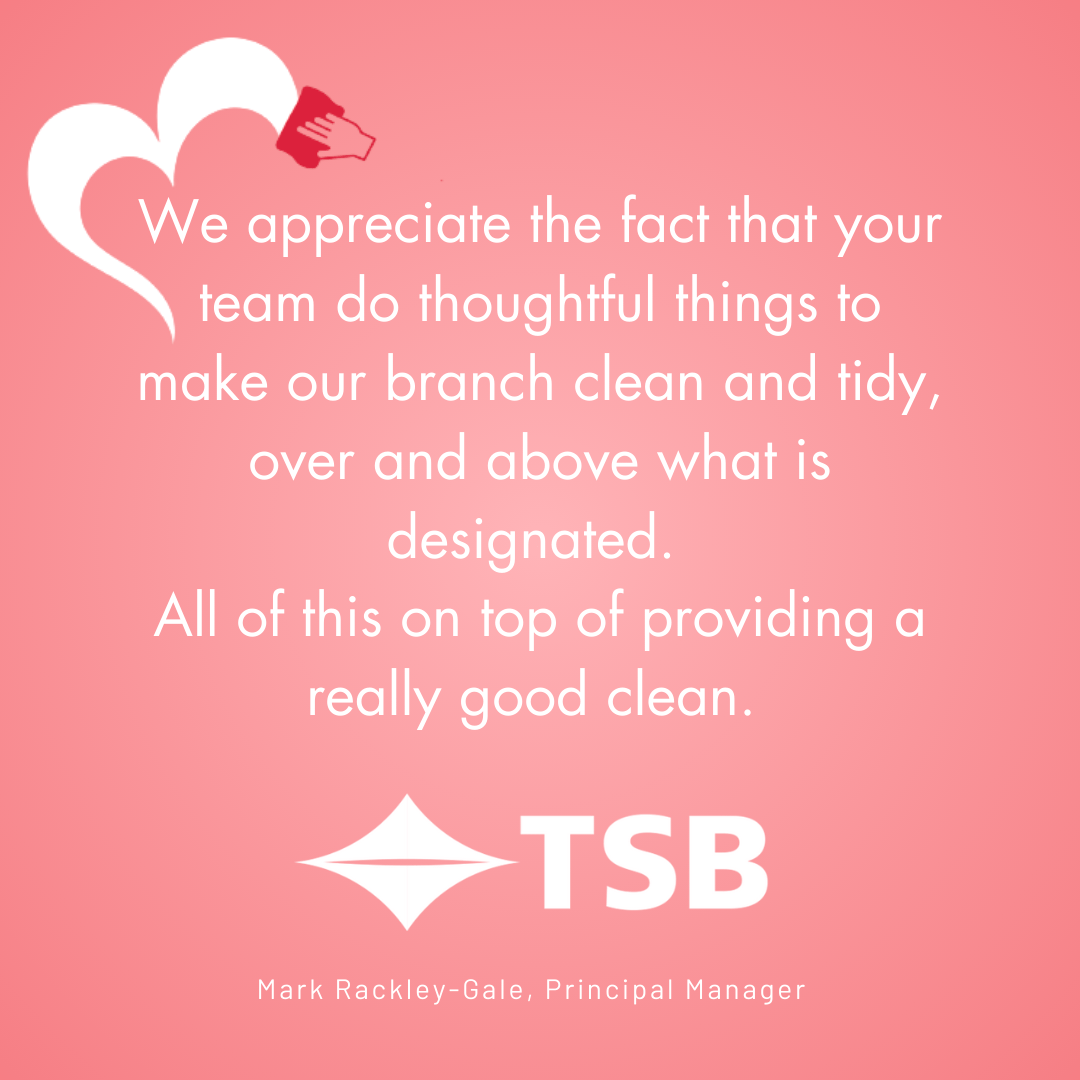 We appreciate the fact that your team do thoughtful things to make our branch clean and tidy, over and above what is designated. All of this on top of providing a really good clean. Thank you, Mark and the TSB team.
Mark Rackley-Gale, Principal Manager - TSB Bank
Thank you for your dedication to cleaning and maintaining our clinic. You may think that no one notices your hard work, but we do – each and every week. A clean clinic is a joy for all of us. Keep up the great work and striving for excellence!
Alistar Richard-Howes, Clinic Manager - Dilworth Hearing Howick
Thank you very much for your efforts EVERYDAY! We appreciate your workmanship and ownership of the job being done. Keep up the great work!
Chanelle Tulutu, Office Co-ordinator - Auto Logistics
Thank you Emanuelle for the great job you do, especially in the kitchen. I love coming in on a Monday morning and seeing it all fresh and ready for a new week. Keep up the good work, you are a valuable member of the team!
Joyce Lindsay, Client Care Coordinator - Bay Audiology
Thank you so much for your care and diligence. It makes such a difference to the spirit and energy of our 2nd home (work) especially as we are a charity.
Karen Molesworth, West Auckland Manager - Barnardos
Thank you for the nice job you do each week when you come into our office. It is appreciated by our staff.
Heather Hobman, Customer Services Administrator - Abbott Laboratories NZ Ltd
Thank you for making sure that the spaces are clean for our younger tamariki and always on the lookout for feedback to do better. Keep doing a great job. 
Paridhi Bohra, Centre Manager - Barnardos
Hi Kiran and Nikita, I just wanted to say a big thank you from us all at Lorne Street Chambers. We are very happy with the great service you provide – it is always so nice to come into the office after you have been. Thanks so much for putting up with us and the often hostile environment coming into the Auckland CBD – we know it's not easy and we really appreciate the way you look after us.
Deanne Sills - Lorne Street Chambers
Auckland Oncology thank you and appreciate your hard work keeping our facility clean and tidy. Our patients are always impressed to be greeted with such a high standard of care and cleanliness; this is especially important as they can feel vulnerable with their immunities. The reassurance they have knowing our practice is clean is comforting. thank you for playing your part in the lives of our patients.
Many thanks for your ongoing hard work every day to help present our business in a safe and welcoming state.
Natalie Mason, Charge Nurse - Auckland Oncology
Thanks for your great work.
It's so nice to know I can rely on you to do a great job. – Best regards, Ken.
Ken Trathen, CEO - Nelson
Chris and April,
Thanks so much for the wonderful job you do, it is just so lovely to come in each day to a beautiful clean centre!! You always do an amazing job and we are all very appreciative.
Thanks so much!! Cath and the team
Cath Adams, Centre Manager - West Melton Kindergarten, Nursery & Learning Centre
Our clinic would be a mess without you. We appreciate your work, you're doing a great job.
Georgina Turner, Medical receptionist - Family Planning
We appreciate the time and care you take every day to keep our centre hygienically clean. It starts our day off on a really positive note and we'd like you to know that we do notice this. Thank you from Janine and the team here in Oamaru 🙂
Janine Presnall, Centre Manager - Barnardos