Good office cleaning practices impacts employees in a positive way. Work becomes a place for inspiration and creativity. Happy staff are more likely to give higher work performance, be proud of their clean workplace and stay longer thus reducing staff churn and recruitment costs in the business.
Happy staff members are not only more productive, they also have higher job satisfaction, take fewer sick days, avoid burn out and show increased loyalty to their employer.
Happiness in the workplace happens for lots of different reasons. For some people, it happens when they're achieving great things. For others, it happens when they're staying back to help one another. For most, it happens when they're feeling valued.
What can't be underestimated is the role that a clean, safe and hygienic environment plays in making people feel valued. At AMC, we believe it's important to look after people and that's why we say: here's to happiness.
[accordions_pplugins id='1976′]
To find out how we can take care of you, please complete the form and someone will be in touch soon.
For job or career related enquiries, please click here.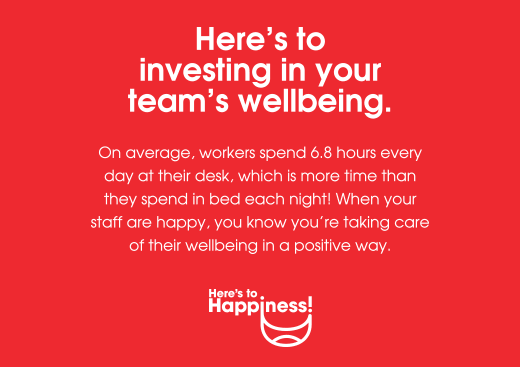 "We spend almost a third of our lives in the office, and in order to find and retain top talent, it's essential for companies to foster an environment that empowers people"
How your office space impacts employee wellbeing,
Forbes.com January 24, 2019
We look forward to revealing more about the AMC Commercial Cleaning difference. Please contact us at any time to discuss your cleaning needs further.