Friday, October 9th, 2020
Shazia and Sandeep on Finding Better Family Time with an AMC Cleaning Franchise
Work hard, enjoy family time and retire early – that's the refreshed perspective of Shazia Khan and Sandeep Singh. Just a few years ago the couple were working corporate jobs in insurance and sales and marketing, and struggling to find enough spare time to really enjoy life. As Shazia explains, "There was a lot of travel and long hours of work. We were missing out on family time and time with each other. We were working hard, but not getting the full worth of it."
They realised there had to be a better way, and that a commercial cleaning business could provide a fast turnaround to profit with cash flow coming in from the first month. Shazia says it suited her nature too. "I love cleaning anyway. I am a bit OCD! So, we thought why not start a cleaning business?" And that they did, by investing in their own AMC Commercial Cleaning franchise in Auckland.
Shazia and Sandeep say that AMC was responsive, respectful and helpful from the start. The couple said they did their due diligence on the company before making their decision, and experienced a smooth transition from the corporate world to business ownership. "The Operations team at AMC Commercial Cleaning made sure we had the right training, the equipment, the cleaning agents and the processes to start, with good clear communication." With three children – one still young, one in intermediate and one in high school – Shazia and Sandeep really wanted to maximise both the quantity and quality of their family time.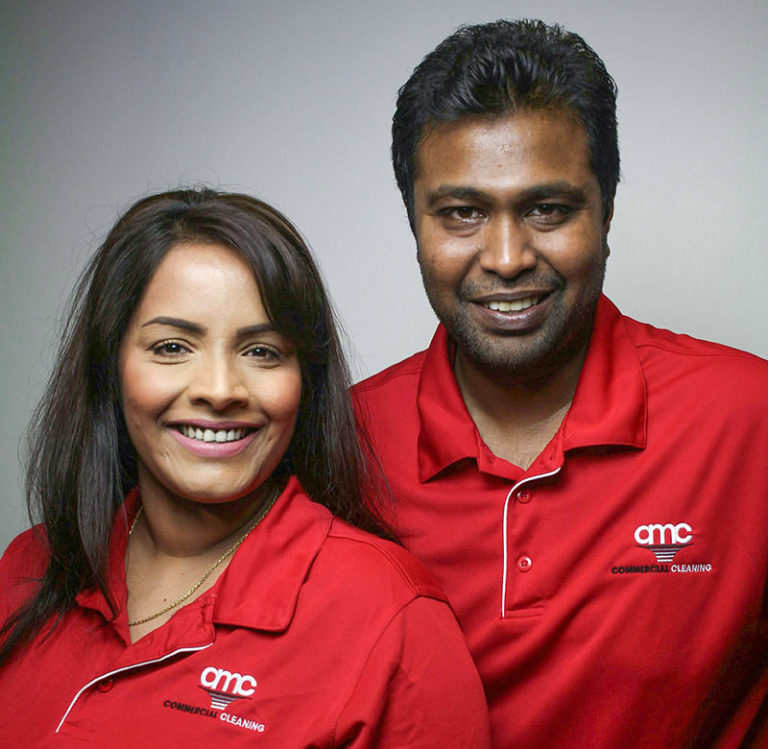 They say they now achieve this with ease. "Before, we were exhausted after work. When weekends came, we just wanted to sleep and not do anything. Now it's different. We are very organised; we manage our work time and family time very well. We are our own bosses! That's the difference." Sandeep can also fit in his full-time role at Auckland University within the staff service centre.
Shazia and Sandeep lead a great team of cleaners within their franchise, and they say that their experience from their previous corporate roles is being put to good use. "We're enjoying working together and we pool our skills to lead and manage our staff. We love working with our team – they are all good people."
And that team's hard work is receiving amazing feedback from clients, too. "One of our cleaners was called up by the Principal of Avondale College a couple of days ago just to say thank you. Our cleaner was thrilled. We get invited for free coffees and free food at many of our customers' places. There's a great appreciation for our work."
For Shazia and Sandeep, their commercial cleaning franchise has allowed them to set a bright objective for their future. "Our goal is to retire at 50! And then enjoy a relaxed lifestyle with a lot of travelling and leisure. Which is why we're putting in the hard yards now."
"But our biggest reward is our children. The fact we have time for them. This family business is really a reward for the family. That's our greatest motivation."
Keen to gain your own independence and be your own boss? Here at AMC we're actively looking for new franchisees in Wellington, Auckland, Hamilton, Christchurch and elsewhere. Explore the recession-proof and low-investment franchise opportunity for yourself, together with guaranteed income and clients over the first two years.