Tuesday, February 9th, 2021
We recently spoke to our New Zealand Territory Sales Manager, Andy Flint, about what the proposal process looked like for Hamilton Boys' High School; the largest secondary school in the Waikato region and a new AMC client.
Andy says that the proposal was tailored to the school while also based on AMC's quality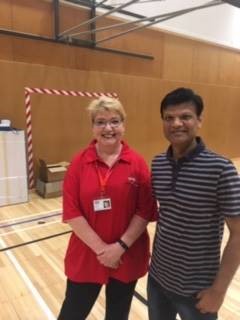 procedures. "I feel that each school proposal we present improves every time, however I really enjoyed spending time understanding what Kristin and Rudra wanted for Hamilton Boys' High School. Finding a cleaning solution that was tailored to the needs of the school took a lot of time and effort as the school is so large, but it was a great experience – and worth every minute hearing the feedback given by Kristin and Rudra, as they recognised the amount of work that had gone into the proposal and essentially the cleaning plan."
"The other very enjoyable part of this process was working closely with AMC's operations team to ensure that we deliver what it is we say we'll deliver. I have every confidence that Senior Operations Manager Dianne Chatterley will have the school in its best condition in no time at all."
Why AMC over Others?
When asked why he believes Hamilton Boy's High School chose AMC over other providers, Andy's response is simple. "I think we listened to what it was they were looking for and showed how we would achieve that outcome, within our face-to-face meeting and within our proposal."
Planning for COVID-19 and the New Norm
In the COVID-19 era, Andy says it's vital to have a detailed scope of works for each area of a school or facility. "This holds cleaning operatives and commercial cleaning companies accountable to the tasks agreed upon in their contracts, and ensures that every school remains clean and safe."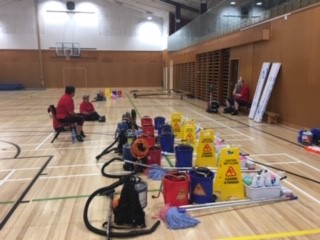 He also stresses that cleaning providers should be proactive about providing their own pandemic-appropriate framework. "Commercial cleaning companies should be supporting the safety of schools such as HBHS by providing standard operating procedures on how they'll deal with COVID-19 and other harmful viruses. In addition, having the option of cleaning methodology such as high-touch surface disinfection services and pre-emptive disinfection services is key."
Here at AMC we're delighted to add Hamilton Boys' High School to our client base, which has been growing particularly fast in the Hamilton area. Throughout 2020, we were awarded national contracts such as Barnardos, Family Planning and Fliway with multiple sites from each business in Hamilton alone. Of course, these clients join our loyal long-term clients in the area including Country Road. To oversee growing services in this area, AMC has engaged a talented new Business Development Manager, Annie Piek.
As Andy says, "Annie is based in Hamilton and will not only service all of our inquiries for cleaning, but will assist in the application of operational excellence and customer service that AMC strives to deliver to every one of our customers. With new franchisee Ketan Patel also becoming part of the AMC family, we expect that Hamilton will soon be growing even faster than it is now. Exciting times!"
You can contact AMC Commercial Cleaning today to request an entirely personalised and obligation-free quote for your facilities, whether you require aged care cleaning, medical cleaning, office cleaning, retail cleaning, hospital cleaning, childcare cleaning or school cleaning in Highbrook, Hamilton or elsewhere in New Zealand.